Donate to "Through Time," our first Doctor Who parody!
Our first ever Doctor Who parody and let me tell you, we are PUMPED! But we need your help to make it happen!
This is a really big project so we're going to need your help to raise the funds.  We're using IndieGoGo as our fundraising platform this time and we can't do it without your support!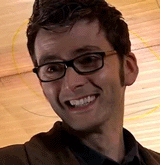 The donations we receive for this project will go to a few primary but essential places. When you're making a Doctor Who video, the most important part is in the title: the Doctor.
We knew that we couldn't represent the Doctor halfway, so we tracked down the incredible Matt Smith lookalike Matt Elliot and asked him to costar in our video with us.
He's excited to work with us! But here's where you come in: he lives in Bristol, England, which  means we need donations to fund his airfare, hotel, cab fare, etc. to get him out here to the States to film.
And of course, every Doctor Who episode has to have a villain! For our video, we chose the terrifying and memorable Weeping Angels. We have a talented duo of costumers at the ready to put together the angel costumes, but we need your help to cover the supplies!
In return, of course, you will be rewarded for your donations with all sorts of awesome prizes—from DVDs to t-shirts to cameos in the video! Make sure to check out our perks to help you choose which level of support to offer.  There's some pretty cool stuff there.
If we don't meet our funding goal, unfortunately there is no way for us to cut corners. We will still need the full amount of money, so anything that this campaign can't cover will have to borrow money from other current and future projects.  If you can't donate, remember that even just sharing the campaign helps us by boosting the signal.  Tweet it, tell your family, tell your friends, post it on tumblr or facebook, make some new friends and tell them!
Just share it!  (Please?)
Thanks for the support guys!